Hey girl hey. And boy.
Let me start off by saying – I hate most trends. 😂 Youtube Rewind came out a few days ago and slime was obviously featured. I don't really have a problem with slime itself but more so slime videos and HOW THEY NEVER STOP COMING IN MY RECOMMENDATIONS! Like chill out Karina Garcia. I'm actually guilty of binge-watching slime videos but the only ones I enjoy watching are the ones from ItsJustNick- you guysss he's sooo cute, and his personality is the bom.com! Unfortunately, he's more into guys so.. 😢. It's okay- I still have food. Okay off topic- let's get started. 😂
---
Before all the slime lovers come at me, let me put it this way. Slime is basically a blob that is created from craft and cleaning supplies which then is aggressively poked and squeezed by humans. Like WHY is this even a thing? Someone needs to explain. Okay yeah, it's stretchy and "poky" and…. fluffy? But why do you feel the need to make a 10 minute video of you poking and folding it? Wait let me guess. Is it……SATISFYING?! Omg I hate that word. 😂 I've heard it like 5 billion times in the past year- ugh.
Is the sound of poking a rubber blob fulfilling your pleasure? Does your life have purpose now? Okay maybe I'm being a bit dramatic but I just don't get what goes on through everyone's mind when they're watching people poking slime behind a screen. One of my friends used to post 500 Instagram stories back to back of her basically poking slime. LIKE…??? Apparently it's called "ASMR" which apparently means,
"Autonomous sensory meridian response (ASMR) is a term used for an experience characterised by a static-like or tingling sensation on the skin that typically begins on the scalp and moves down the back of the neck and upper spine. It has been compared with auditory-tactile synesthesia"
OMG WHATTTT?!! OMG GUYSSSS!!! I used to have this happen ALL the time but I never knew what it was. Like whenever someone was flipping paper – I would get that. OHHH- apparently you're supposed to feel the same thing when watching a slime video? That never happens to me. 😂 But it happens to other people? All I hear is blop. blop. blop.  Okay maybe I have the problem then. Wow, now the rest of this rant is going to not make sense because the purpose of all that is to create the aSmR eFfEcT. Whatever. I'll just pretend I never knew this and go on with my life. 😂
So the thing with Instagram stories and YouTube videos is it may be satisfying to you since you're the one who's feeling it, but like how do you expect me to react to that? Imagine someone just walking in to see you listen and watch "blop..blop..blop." like what are you doing with your life? 😂. Even worst if someone just walks in on you poking a blob for 30 MINUTES STRAIGHT.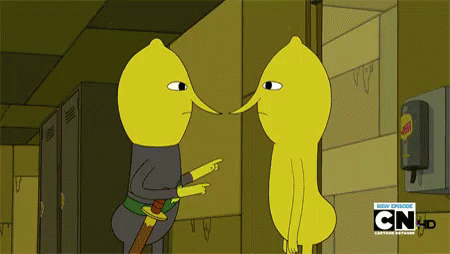 People are actually buying and selling slime. Like no, not cars, not houses, not clothing- but slime. They legit might as well create a Slimazon or Slimiji. (Canadians, where you at?) Slime videos get millions of views. When I was in 2nd grade, we had this science program that we could join and I REALLY wanted those mini green slime packets. Like those were the bom. So apparently, the slime trend just came back years later except there's like 500 different slime types?
And then there was the Nickelodeon slime that was used in the Kids Choice Awards.
So this all somehow evolved to this…
Okay not gonna lie- those looks stunning! But like I said earlier, it's not the slime that bothers me but mainly the slime videos.
Another thing I need to mention is that – slime STAINS. Once I was at my friend's house and she had this velvet putty slime thing which I was playing around with while we were watching this video. After that, I realized I left some on her bed and it made a mess on her sheets and my jeans like yay. I felt sooo bad. But yeah, I thought slime was uNsTaInAbLe for some reason- since you know how people poke it and everything but not get anything on their hands. So that was fun. 🙂
And finally, I know you're probably thinking "well you probably don't like it because you haven't tried it"…well, you're right. I never made slime. BUT I ATTEMPTED TO. One day, I was so fed up with the videos and everything and decided to see what the fuss was all about. But guess what? Like everything else, SLIME FAILED ME. I mixed glue with Persil (a laundry detergent like tide) – and it started to come together, right? It got really sticky so I decided to add shaving cream. But, we only had shaving gel. Shaving gel…shaving cream…same thing. 😊 So I added that. AND IT MADE THE SLIME 500 TIMES WORSE. I don't know if the glue and gel had a reaction and decided to become…paper?! Seriously. It felt like paper. I decided to put it in the freezer because duh. But that only froze it and then when it melted, it turned into liquid. Yay. 🎉
---
Maybe I'm only complaining because it never worked out for me and maybe there are people out there that actually agree. Either way, I really hope 2018 can come up with BETTER trends and I don't end up hating all of them. This is starting to sound like a 'Goodbye 2017' blog. Not yet guys! We still have 3 weeks. 😂 I hope you guys somewhat enjoyed this blog. If you do like slime, don't talk to me you do you girl! And guy. Do guys even like slime? Am I being sexist? 😂 Anyways, I'll see you guys on Tuesday with a new blog and the news of me not making the basketball team. 🙂 They're announcing it tomorrow!- yayyy can't wait to be rejected. 😂 Okay I'll see you guys on Tuesday. I already said that. Ugh.
Bayyy 💞