Hey girl hey. And boy.
Aaah it's March. Which means April, May, June and SUMMER! I never thought I'd ever get through the year. Fine, I'm getting too ahead of myself – let's recap to February. The month of Valentines and Winter Olympics. 😂 If you haven't seen my last monthly wrapper, click here. As usual, skim through to what interests you and let's get started.
---
School
Good thing I have a journal because other than that, I'm pretty much a grandma when it comes to memory.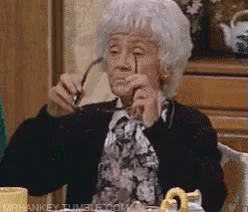 (I told you I love this gif 😂)
Annnyway, I legit had a freakout over this debate project because I couldn't even organize my thoughts and at one point, I ended up making a paragraph about drinking tea with Queen Elizabeth (totally off the topic!) Thankfully, I put myself together one day before the presentation. I haven't done my conclusion yet and I didn't even memorize it. I used the excuse that I needed to print it and 5 other guys did that plan as well because I was sitting in the computer lab with all of them and we were basically rushing to finish the speech. My last minute instinct came to save the day and I printed it with success. Unfortunately, as soon as I came back, I had to give the speech. 😢 People really liked it though and my opponent literally got fake angry at me because I practically destroyed the debate – JK JK I wasn't that good. 😂 But yeah, that went successfully (الحَمْدُلله).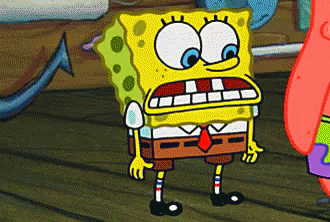 The other class got a new Persian student and at first, I thought she spoke Arabic because she wore the scarf so I literally explained everything in Arabic until she was like umm I don't understand. So that was awkward. 😂 I also found out that Iranians speak Persian and not Irani. The same mistake I made when I thought everyone who speaks Spanish was Spanish and not Latino/Latina. I'm great with geography 😂 Myra (we're calling her Myra), Farah and I became close friends (at least in this school) and we spend most breaks in the library finishing school work.
We got our report cards and I'm really happy with it except my gym mark which was 78 like thanks. 78 is awesome for a potato but I'm sort of trying to keep my marks high 80s to 90s and this is sort of giving me ocd.
Three Fridays ago, I strained my neck. Apparently, I slept wrong on it (if that makes any sense) and the next day and it was like 'nope I don't feel like moving to the left without giving you jolts of pain'. It's fascinating how one part of your body can prevent you from doing so much. And one of that is basketball playoffs! According to the medication and my dad, if I went to the playoffs, it could possibly ruin my neck recovery. The problem is we lost 18-24 and they didn't even take group pictures. Like there was no closure whatsoever. No meetings, no practices, that was it. We lost and no one talked since. 😂
 (spongebob streak over but I still love Titanic)
I don't know if any of you watched the Olympics but we had this green screen project where we had to report on an event for our media unit. I filmed some other students and edited some in the library which was pretty fun. Our group literally took forever to film because I have a laughing disorder – not even kidding. 😂 It took 40 minutes to finish the first 10 seconds. Other than that, everything flowed smoothly and we're watching them on Monday. Ugh I'm going to cringe.
---
Life
 Life is great! The weather is starting to get warmer too so I'm really happy about that.😂 I'm working on a developing a routine to organize myself and watching my actions more. I've come to realize that this life really is temperory and we need to use our time while we still have it. One day it'll be too late so always take risks and work on being a better person. Deep talk aside, I had a Thursday off so my mom and I went to the salon (#motherdaughtergoals- I know 😂) After that, we went to Food Basics and I took someone else's cart AGAIN. I need to stop day-dreaming in grocery stores. 😂 I went to Michaels to find a bullet journal but there was only one and it wasn't the type I wanted. I ended up getting yarn and making a scarf though.
---
Blogging
 Okay, we all know I failed here. 😂 I'm not so sure about Hot Choco Talks anymore. I might just make them whenever there's a topic I'm inspired to write about. As for my goal of 10+ posts this month, I forgot about February's 28 days PLUS I legit had writer's block for 2 weeks. I have a collab coming up in March so I think I'll be good to go. Ugh that's what I said last month. ANYWAYS, let's get on to our usual formatting. 😂
Blog Post Of The Month
February's Most Popular Post
Blogger Of The Month
I loved Raff's posts this month – especially Annoying Moments All Bloggers Understand and Styling With Raff series! Natalie is also an awesome blogger as well – I loved her 5 Common Ballet Myths Debunked and 5 Weird Toys posts!
Most Active Followers
I had quite a lot this month (thank you!!)
Kaylyn
Natalie
Stella
Raff
AAG
Ann
Haya
Veronica (Our Paris conversation was so funny 😂)
And thanks to everyone who commented in general!
P.S. Not sure if anyone else noticed but I redesigned my blog layout for February. I might still leave it until mid-march and then change it to a Spring theme so you can check it out if you want to. 😂
---
February Favourites
Fav Song: Stay by Rihanna & Hometown Glory by Adele
I know these are old but I literally found out about them now and ughhh I'm in love. Hometown Glory was played in Canada's Pairs Free Skating Finals – that event was incredible!
Fav Movie: A Walk To Remember
I keep talking about this movie 😂
Fav Book: Update on that book I lost – turns out someone found it and returned it to the library because it's not on any of our library cards anymore so thank goodness but I still had 50 pages to go 😥
Cravings: AAH I ATE SO MUCH GOOD FOOD THIS MONTH!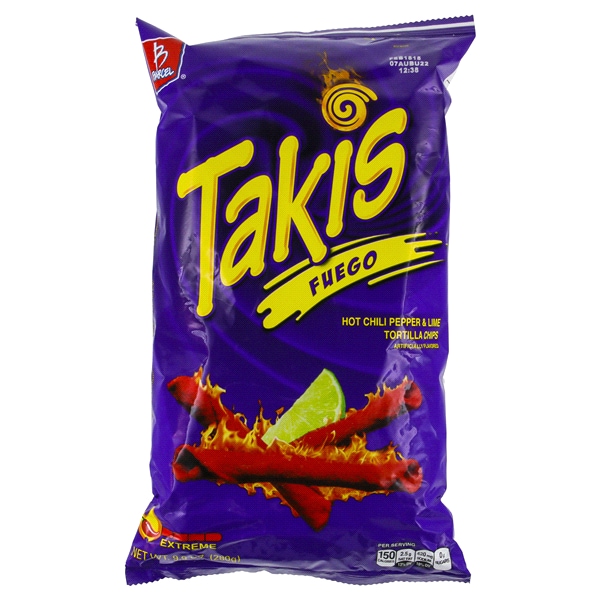 Fav Hobby: Knitting & Listening to lectures
Go-to Outfit: Sweater and sweats (sorry – I like to be comfortable 😂)
Fav Day Of The Week: Thursday
Fav Youtuber: Nouman Ali Khan – his lectures are so beneficial and I strongly recommend watching some of them.
Fav Quote: "The only person you should try to be better than is the person you were yesterday."
---
Help Me ._.
 I don't need help this month yasss #independentgrandma
---
March Goals
Hehe I'm expecting a 0 but let's see.
ACTUALLY get started on Hot Choco Talks ✖️ (it legit got to the point where I'm not so sure I wanna do it anymore – maybe next year 😂)
Post 10+ posts (I lowered my expectations, okay??😂) ✖️ Okay first of all, I posted the last post on February 28 but WordPress is somehow british timing so it only shows that I did 8 posts but either way, I failed this one too)
GET A BULLET JOURNAL ✖️ Ughhh maybe next year.
Revise over all the chapters of Quran that I already memorized. ✔️ I'm giving myself a point five because I revised more than half.
Score at least twice in playoffs ✖️ I didn't even go 😂
Read 4+ books ✖️ Wait did I read only 1 this month? Ughhh.
Slay that debate next Wednesday ✔️ (i'm so uncreative at the moment and I hate it) – Okay okay I somehow managed to do this and it was great so I'm giving myself a check mark.
1.5/7 Why do I never accomplish goals?? 😭
Now for March goals:
Post 10+ posts (I'm not giving up 😂)
Revise the rest of the chapters and memorize a new short chapter (2-3 pages)
Read 4+ books ( I CAN DO IT )
Do Blogilates exercises every other day 
Post 2 or more collabs
Drink 2 full bottles of water every day
Compliment someone twice a week (different goal, let's see if I can do it)
---
Anddd that's a wrap.
How's life?
How's school? 
How's blogging?
February favs?
March goals?
Tell me everythingggg. I'll see you guys soon.
Bayyy 💞