Hey girl hey. And boy.
So I've seen DIY spring decor videos around Youtube and initially planned on recreating one myself. But then I realized that many of these DIYs were pointless and were just left to the side after Spring so I decided what better way to hit two birds with one stone by making a spring DIY that is both decor and beneficial and also checking off not one, but two, goals off my April Goals. That was a run-on sentence, sorry. 😂
Before we begin, this is a collab with the lovely Mia again. Make sure to check our last post and her blog out if you haven't already. She's doing a DIY decor as well so you'll be getting not one, not three but tw- okay, I need to stop with the commercial tone. 😂 This is more of a personalized board so you can make it however you want but I'll show you how I did mine for motivation. Anyways, let's get started.
Materials:
Black Foamboard
Post-It Tabs and Notes
Pen
Trend Pen
Tape or Glue
Washi Tape (optional)
Green Glitter Cardstock
Chalkboard Stickers and Chalk
Decoration- Polaroids, flowers..etc (optional)
Note:
You can do this on a white poster but use markers instead.
My main theme was a To-Do list but yours can be anything else.
Step 1
Cut out two cardstock rectangles for your To-Do and Done. I thought I purchased the peel off cardstock but turns out I didn't so I just outlined them with Washi-Tape. 😂
Step 2
 Create a legend. I made mine out of post-it notes and tape so as you can see, I'm being the ultimate DIY queen here. In Green, I put Prayer & Quran and those usually don't change so I just put them back on To-Do for the next day when I'm done. In Pink, I have School Work & Blog so finishing homework, projects, blog posts etc would be sorted out. For Orange, I have Daily Goals & Challenges so exercise, water goals and health wise things are mainly there. And finally, Other is for everything else like reminders, chores and more. 
Step 3
Bring out your chalkboard stickers and work your way around.
On my far right, I have Monthly Goals which is an exact copy of the ones I show you in my Monthly Wrappers (check out my last one here – yes, I never stop with the self-promos😂) And yes, I totally just checked off 'Organize your day girl'.😂😂 I always set goals for myself but then I never remember a lot of them so when it comes to checking how many I  accomplished, I'm like…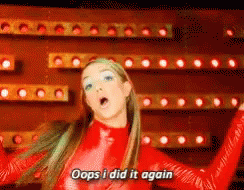 Under that, I have 'Upcoming Events' like birthdays and events. So it's almost like a calendar. To the left, I have a water tracker because I hardly keep track so that's handy. Besides that, I have a 'How Was My Day' on a scale of 1-10.
*sorry for the very great quality picture, I cropped it from the big one*
Finally, I just made a pocket for the chalk and pencil by folding a square piece of paper in half and taping it. And then I attached the post-it tab booklet to a string and taped it to the board.
Step 4
Decorate. So for spring, I used coloured chalk to make a floral design. Then, I stuck a flower under the water tracker (which is now dead – r.i.p). And finally, I just taped three polaroids to the bottom which sort of go on the spring theme.
---
---
Anddd that's all for today. *checks off 'Get Organised, Girl'* *checks off 'Complete 1+ collabs* 😂 Don't forget to check out Mia's DIY post because why read one DIY post when you can read two? 😂 I totally recommend making this because I'm such a forgetful grandma and it's nice to have things laid out in front of you.
Are you a forgetful grandma? (I was going to say something cheesy like 'wIlL yOu tRy tHiS dIy?' but the times I've said I'd try something in a comment and haven't got to it yet is pretty insane. 😂 So here's your question of the day.)
I hope you all enjoyed this post and I'll see you in my next one.
Bayyy 💞