Hey girl hey. And boy.
Ramadan is just around the corner (literally in a day) and just like many events and occasions, it has its expectations and realities. It's nothing to do with the month itself but more to do with how unproductive of a potato I am.  😂And just before we begin, I know many of my readers do not celebrate Ramadan, so here is a brief introduction. Ramadan is the ninth and holiest month in the Islamic calendar. In this month, we Muslims fast (not eat or drink) from sunrise to sunset for the sake of Allah (God) and increase our offering of prayers, Quran recitation, good deeds, and charity. The purpose of fasting is to redirect our hearts away from the distractions around us and to cleanse the soul. Ramadan also teaches us self-discipline, self-control, sacrifice and empathy for those who are less fortunate. And yes, you're probably like "gurl food is bae, how do you survive for 14 hours without it?" 😂 It actually isn't that hard and even when it is tiring, we'll get rewarded in the afterlife inshallah which is what matters. Plus, some people go without food and water, except there's no iftar (feast for breaking the fast) which is really heartbreaking.💔 So yeah, now let's get started.
---
Decorations
You expect to be on your game this month with DIY lanterns and banners all around your room.  You have a Pinterest-inspired corner in your room just for Quran and prayer and you're just feeling the vibe. But sadly, one can only dream, and every year you get too lazy to make DIYs and your room remains the same mess every year. But hey, at least there's that one lantern sitting on the coffee table. 😂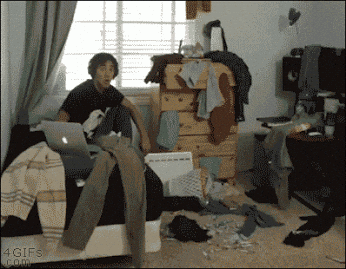 expectation                                                  reality (I need that curtain though)
2. Finishing The Quran
So in order to finish the whole Quran in one month, you can read 20 pages a day. Of course, my procrastinating self keeps leaving pages for the day after and eventually my period comes for a full week to interrupt my progress (you can't fast, pray or read Quran on your period – tmi but we're all girls…oh wait I say 'and boy' too…dun dun duu- ANYWAYS 😂😂) but next thing I know there's 5 more days until Ramadan is over and I'm only 100 pages in. But no, this year I won't organise it like a chore. I'll read as much as I can every day and inshallah I complete it. Hopefully, this month doesn't turn into the reality of past years. 😂
expectation                                                   reality
3. Productivity
Ramadan is the month where you find out if it was Satan's thoughts in your head or if it was just you all along. Satan along with the major devils are locked up in the month of Ramadan so if you sin or procrastinate, it's like wow so it was me all along. 😂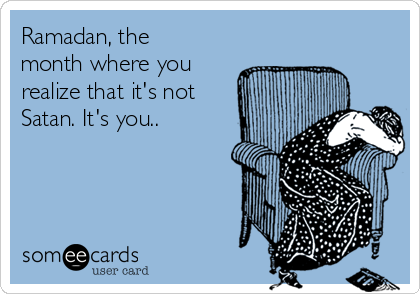 In Ramadan, I expect my productivity to be on an all-time high but it isn't always. Not only did I procrastinate on Quran but I left homework until after Iftar because I DiDn'T hAvE mUcH eNeRgY. But NOT this month. The new Bayance is back and ready to be productive. 😂 Ugh I say that every year.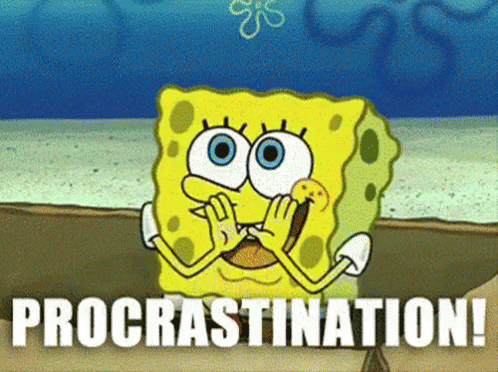 expectation                                                    reality
4. Sharing Food
Ramadan is also a month of family gatherings and being kind to one another but when it comes to breaking the fast, it's a war zone and I've already dibsed the whole platter of sambusa. 😂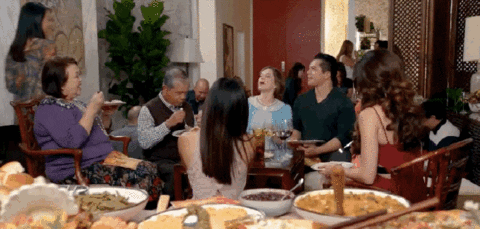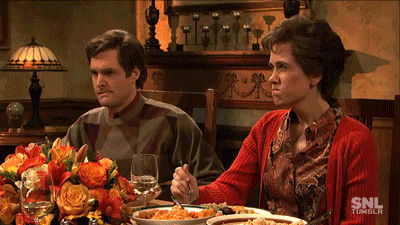 expectation                                                     reality
5. Drinking Water For Suhoor
After the first day, you realize how thirsty you can get throughout fasting so you make sure you drink lots of water for Suhoor. (early breakfast) Except…you're suddenly really full and can barely gulp down 100 mL. And the process repeats. Thirsty throughout the day,  but when there is water, I suddenly don't want it anymore. "Sometimes you will never know the value of a moment until it becomes a memory" – yes, I had to slip that cheesy quote in here. 😂 But seriously, our bodies are so weird!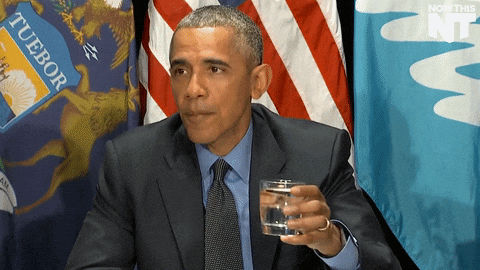 expectation                                                           reality
6. Breaking The Fast
Similarly to the last one, you'd expect for me to devour the entire dinner table but in reality, I'm so full after the first bite. I think it's to do with my stomach getting used to it so I get filled up easily but this one gets me every time. 😂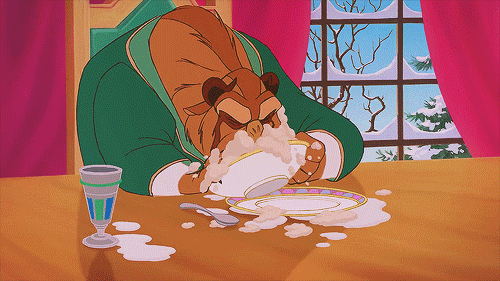 expectation                                                            reality
7. Losing Weight
A lot of people probably think that since we're not eating throughout the day, we surely must lose a lot of weight but that's actually not true. In fact, Ramadan often causes weight gain if you're not careful. This is because eating large meals super early in the morning and late at night with a long period of low activity can wreck your metabolism. But if you maintain yourself carefully, you'll be fine. The majority of people lose a few pounds or stay the same but no, we don't suddenly turn into skeletons – don't worry. 😂 Wow #sciencelessonswithBayance101 😂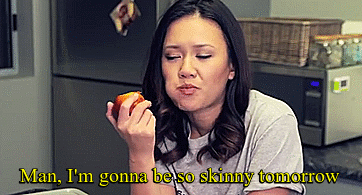 expectation                                                  reality
8. Weather
Unlike other holidays around the world, Ramadan shifts around 10 days early each year. For the past few years, Ramadan has been in the summer and now it's in the summer AND school. I know it's still Spring but it was literally so hot and sunny today and hopefully it's not like that tomorrow. The thing with summer and school combined means that you can't sleep in and not to mention, be outside for breaks and gym class. It gets hard sometimes but thankfully, Ramadan is starting to shift towards Spring so let's pray for great weather for the next few years. 😂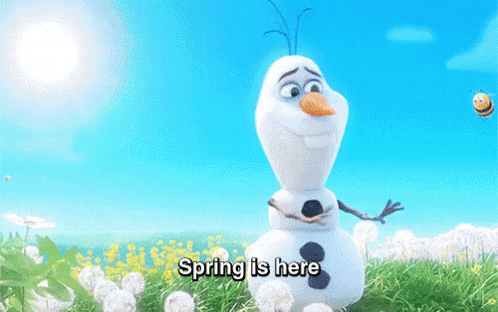 expectation                                         reality
---
---
 All in all, it's a really great month and I'm super excited for a month of blessings and family time (if we don't fight over my mom's sambusa 😂) Now as for my posting schedule, I might be posting less which is why I set a goal of 8 posts for May but I'm only 2 away so I'll probably do more. Expect a few more Ramadan posts and if any of you want to collab on a Ramadan post this month, leave a comment or email me at bayanceblogs@gmail.com. I'll continue with awards and normal lifestyle posts so I'll try to schedule as much as possible. Have a very blessed Ramadan to whoever celebrates it and let's try to aim for them expectations this year. 😂
Do you celebrate Ramadan?
If not, do you relate to some realities in other holidays (productivity, decor…etc)? 
I'll see you all in my next post.
Bayyy. 💞