Hey girl hey. And boy.
SUMMER'S HERE! You know what that means? Time to go shopping!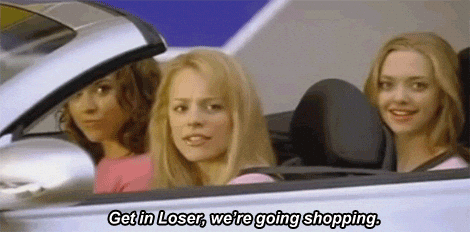 Okay that was the lamest intro ever but over the past two months, I did a bunch of shopping. Eid also came around meaning we have quite a lot to go through. 😂 And no guys, I'm not turning into a fashion guru – I just wanted to disgust bless you guys with my fashion sense. 😂 I went to H&M, Bluenotes, Payless, Urban Planet and more. It looks like I've purchased a lot but I lowkey just got one or two things from every store. 😂 OH and happy Canada day! I missed the fireworks last night like bruh.😭  But anyways, let's get started.
---
From H&M, I got 2 pairs of pants. They turned out to be more of 'stay-at-home-and-watch-Riverdale' style rather than outside but I value comfort more than looks so I'll probably end up wearing them anywhere tbh. 😂
Okay before you all come at me saying 'how is a raincoat perfect for summer?' then you don't know how bipolar Canada's weather is. One day it's raining, the second it's boiling and the third it's probably hailing. Plus, I got it from the 'buy one get one free' sale section so why not? Plus plus, I love the colour svdhgdhgkskdvbdhkj. 😂😂
I've been looking for rompers everywhere and finally found this one in forever21. I bought a ruffled body piece but I didn't take a picture of it and I'm too lazy now so..😂
Picture fail over here but I'm in LOVE with these pants. Now that summer has come, wide pants are literally all I wear. And I especially love this one because it's fairly thin and matches many things in my wardrobe.
I used to think Zack's was some store for grandmas (perfect for me😂) but I actually found really great pants in their new spring collection. The pattern below is kind of wild but it goes pretty well with a plain navy top.
As you can tell, I kind of have an obsession with wide pants but I just had to get these from Winners. 😂 It's kind of big around the waist and I wouldn't say it's the comfortable type but it's a great material and I wore it very often in the past month. It would look so good with a light pink turtle top but I can't find them anywhere. 😭
I've been attempting to try the turban style with a normal hijab but every time I try, I end up looking like Sindbad the Sailor.😭 So I was really happy when I found pre-made ones.
 vs 
everyone                                   me
And finally, got two pairs of shoes. One is casual and the other's for occasions. I nearly wore heels to a ceremony I attended this month but thankfully I found flats because a) HEELS HURT LIKE @&£* 😭  and b) I'm already tall and I don't want pictures to be awkward. 😂
---
Anddd that's all for today. There's going to be a lot in my June Wrappers so stay tuned for that.
Did you go summer/spring shopping?
What's your favourite store?
Do you have an obsession with a clothing item? (wide pants all the way 😂)
Bored? Check out my last two hauls.
I'll see you guys in my next post.
Bayyy. 💞