Hey girl hey. And boy.
Remember last year when I said my DIY Notebooks will improve next year? Well…about that…😂 It's not that I don't try – I just don't think art and I were meant to be together. BUT, regardless of my fails, I've decided to just stick with it and show you guys the disaster. 😂 The only good part about this post is that it's a collab with Chloe from Short&Sweet – she is literally so good at DIYs and I'm sure you all will love her blog! On the other side of my mess, we actually have some really cute notebooks over at Chloe's post – psst.. the moon one is BAE so make sure to check it out. Are you guys ready? I'm Dora again – let's get starteddd.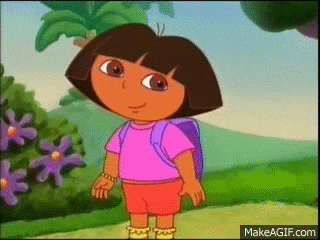 ---
White Striped Notebook
Honestly guys, you should get used to my bad titles by now. 😂 This one didn't turn out that bad but boy, what a struggle.
What You Need
A Notebook
Scissors
Wide Tape
Paint (I legit used tiny fabric paint like what was I thinking :)?)
Paint Brush (not a fricking SOCK cuz you don't have art materials and are too lazy to buy oneee 😭)
Line your notebook with wide tape leaving gaps between. I used tape to cover the areas that don't have words or marks on them.
Paint your notebook and get your hands dirty only proving the point that Ardene socks are not good qualityyyy. Anyways, I suck at painting. And fabric paint and a sock did NOT go well together. I'm sure your 2-year-old sibling can make more solid layers than that.
Once dry, remove the tape.
Decorate!! I was so uncreative and used black tape because I couldn't go to Dolloramaaa but I'm sure y'all have the cutest washi tape lying around.
At least my pictures somewhat improved from last year….right? 😂
---
2. Motivational Quote Cover
Now I was thinking of painting a notebook cover white and writing a quote with sharpie but as you can see from my painting skills above and my lack of materials, that didn't really go to plan. So what's the next best thing? Taping a white piece of paper to a notebook cover of course.
Paint your notebook cover the colour of your choice. In my case, cut off the excess paper so that the paper fits your cover and tape it.
Write down the quote of your choice. You can also decorate for a certain class like Biology or English instead. I decided to go with a cheesy 'You Got This'.
Laminate with tape.
Bad idea.
Repeat steps 1 and 2…okay just kidding but never laminate a notebook with tape! 😂
---
Anddd there you have it.
Two super ugly cute notebooks that will make all your classmates bully compliment you! Okay clearly this was more of a light-hearted post but these can turn out super cute if it's done the right way. So don't use socks as brushes and get normal paint and washi tape. 😂
Have you tried DIY notebooks?
Which one did you hate less out of the two?
I hope you all enjoyed this post and make sure to check out Chloe's 100 times better DIYs here. I'll see you guys tomorrow.
Bayyy 💞