Hey girl hey. And boy.
It's exam season encore. For me, exams are in only 3 days but I know others finished or are in their second week or who knows? Maybe it's Australia and you're still on Unit 1. I'm actually really glad I'm in Canada because there are 4 exams per semester but I know France and Jordan have like wack amounts of exams at the end of the year. If you let Canadians write a European exam, we'll all be like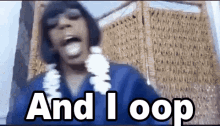 Sorry guys, this is becoming like the grandma gif but I know I personally struggle with studying ahead of time. I usually like to cram everything in study sessions. The thing is, if you understand the topic, you won't need to study as much. But it also takes time to refresh your mind so I hope these tips help. Without further ado, here are 7 tips to not have a mental breakdown right before exams.
---
1. Stay Hydrated
I know I'm terrible at this one but dehydration is a big no-no when studying. Keep a bottle next to you and I like to keep salty snacks to encourage more water intake.
2. Study in the Daytime
Now my mind works best at night but you can't deny that the sun really makes a difference when it comes to studying. Open those windowns sisss.
3. Healthy Snacks
I like sticking to protein filled snacks like peanuts, almonds and dark chocolate. I can't eat and study at the same time but I like to eat this right before or in between breaks (that I take toooo much of).
4. Keep a Course Outline on Hand
Our french teacher gave us ours at the beginning of the year but just take a look at a checklist of the different units you did so you're aware of what you need to study if you don't have a clear review sheet.
5. Uninstall Social Media
I actually find this one incredibly hard even after 6 months of on-and-off social media cleansing but try your best to just completely uninstall everything that distracts you and maybe come back after a good chunk of studying. Let it go because the only thing getting you into higher achievements is studying not likes and commentsss.
6. Have a Clean Space
I used to ignore this tip until recently and a clean room = a productive day. Seriously, make your bed. Clean up your floor and the emptiness will relax you. I don't think empty is the right word but lack of clutter – same thing.
7. Sharp Pencils
Okay so this may be really weird but sharp pencils are a must. Or if you like pens, switch up the colours. Stationary can go a long way if it feels smooth and neat.
8. Exercise
Okay so I'm a huge hypocrite for saying this because I don't do it often but I worked out this morning and felt way more productive after. It will make you feel less like a slob and more like a boss. Whether it's the gym, at-home workouts or a walk, move a little before taking a study session.
9. Fake It 'til You Make It
Dress like you're about to conquer the world. Okay maybe not conquer but don't just chill with a t shirt and ripped jeans. Tie your hair, dress a little more put together and do it for yourself and productivity. Today, I'm wearing a jumper and cardigan and I just took a shower. It makes you feel way better, trust meee.
10. Study Somewhere Comfortable
I love studying on my bed but others might like the library. Whatever works best for your productivity – you should go for it!
---
Anddd that's all for today.
What are your top exam tips?
When are your exams?
I'll see you all in my next post.
Bayyy. 💞