Hey girl hey. And boy.
I know everyone's completely over all my breakfast posts but I'm serious when I say that there are days when I wake up super late and have to grab a banana and no lunch at all. And then I end up getting chips from the cafeteria which is really not helping with my goal of maintaining weight. I've looked at the past breakfast recipes I made and most of them you had to make the morning of but what if we could make breakfast and lunch the night before? How many of us have so much energy at night but when morning comes, we have no time to do a n y t h i n g. Or we might not be aware that we have missing groceries and can't make the recipe we planned. I've literally been eating the same breakfast for the past million days and I think it's time for a last-minute tasty and healthy change. Who's with meeee? (this is where you pretend to nod in agreement…come on…..no?…..ANYWAYS)
This is a collab with the amazing autumngirl! She's going to be sharing Bake Sale recipes and that post is definitely a lifesaver because the number of bake sales we had last year I swear- Plus bake sales are just the best and I don't know about you but I do need some new desserts added to my list of things I can cook (which is currently 0 rn shh who said that?) so definitely check it out! Head over to her post and learn how to make good desserts for others and earn more cash but for now, let's learn how to fill your stomach first.
---
*these recipes work for breakfast and lunch – I know I'm a convenient queen*
Peanut Butter Oat Energy Balls
I've shared this before but this is absolutely perfect to make the night before for breakfast and lunch. All you need is peanut butter, oats, honey and *optional* chocolate chips. They are so so easy to make and I don't even measure the amount I use anymore. Plus, they're perfect to make while you're rewatching The Office on those late nights.
2. Breakfast Quesadillas
This recipe is from TheSpruceEats but it's honestly genius and were it not for a road trip today, I would have tried all these recipes this instant. This is what happens when you don't make things the night before. ;o Anyways, the idea is you make scrambled eggs and add toppings of your choice like cheese, beans, corn, cilantro, onions and more. Then you take tortilla bread and spread this mixture on half of the tortilla. Fold it in half and store in the freezer from overnight to up to 2 months. The best part? When you're ready to eat, all you need to do is microwave them for a minute. You can also heat it on the skillet but y'all know I can't do anything with stoves. The other day I told my sister to put the hersheys in the microwave a bit more because I wanted a saucy texture and the hersheys burnt. Thankfully there was no fire but now I might be paranoid from microwaves too. I'll try this though!
3. Breakfast Popsicles
I made this yesterday and it turned out so good! It's cold but if you want a warmer breakfast, just use the unfrozen mixture – it works even better.
What You'll Need (for four servings)
2 Bananas (mashed)
1/2 Cup of Greek Yogurt
1/2 Cup of Milk
2 Tablespoons of Sugar (or honey)
Your choice of berries or granola (I used blackberries)
Mix the above ingredients for a smoothie and mix them all except berries for the popsicle (you'll be dropping those into the popsicle moulds)
The breakfast works for both popscile and smoothie (I have really tiny popsicle molds so get yourself bigger ones) and lunch only works with a thermos bottle that can keep your drink contained. The greek yogurt and vanilla give it a rich consistency and it tastes really good!
I've made a banana smoothie here and it'll work really well too.
4. Mugcakes
Mugcakes are literally my favourite thing to make nowadays and it's because they're REALLY simple but really rich and filling too. Gemma from Bigger Bolder Baking has the best recipes and I'll share a future post soon on the three I tried but for now, I'll share my chocolate jam one. You can mix all your ingredients beforehand and wait until the next morning to heat it. For lunch, move it to a container and take it to school. It only takes one minute to heat and it's so good.
This one is from SimpleCookingChannel and I used strawberry jam instead of blueberry.
5. Three Ingredient Banana Oatmeal Cookies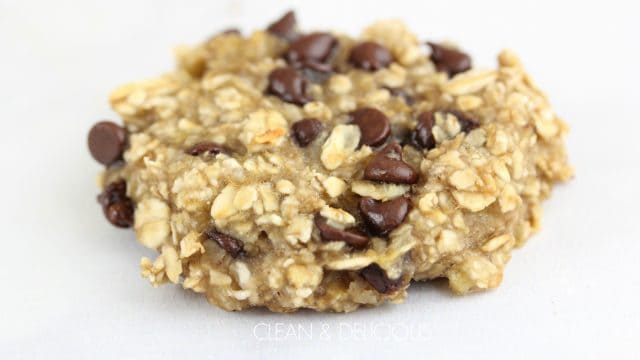 We start with oats and we end with oats. This is the same concept as last time: oats, chocolate chips but this time bananas. I'm going to link this recipe here and I'll be trying this very soon because it's literally with ingredients I have at home and it's super simple to make. Fun fact: I've never baked cookies before. So why not start with healthy ones?
---
Anddd that's all for today.
I was indecisive between breakfast and lunch so I thought why not do both? Also, watch me split the batch between breakfast and lunch to save time for the same day. Hope you all kickstart your first days with healthy and quick breakfast recipes even if you spent the night before watching Netflix. It's all ready to go for you in seconds the next morning.
What are your favourite makeahead recipes?
Favourite recipe from here?
Have you ever tried any of these?
Don't forget to check out autumngirl's post because those Bake Sale recipes are a must! I'll see you tomorrow (the back to school marathon is ready for blast off..okay that's enough sounding like Sandy).
Bayyy. 💞