Hey girl hey. And boy.
All of last year, I would buy things from the cafeteria (I spent last year in another country and the cafeteria was pretty decent). The problem is, cafeterias are hella expensive. Let's say you spend $5 a day on school lunch.
5 x 5 = 25 (a week)
25 x 4 = 100 (a month)
100 x 10 = 1k (a school year)
I could get so many Takis with that.
 *if you don't know what Takis are, please leave the room.*
And yeah maybe homemade lunch may not be as different but it's healthier and easier and no long lines! Woohoo 😂😂
I'm going to show you what I would put in my ideal lunch box and then some ideas off Pinterest. Because as you can see from my last blog, Pinterest is the most realistic website out there. Btw everything in this lunch is from Costco. 😂 And no this is not sponsored. I'm just your typical person who lives in Canada lol. Soo anyways, let's get started.
 Base
For the "main" dish, I usually go with a sandwich or salad. For today's imaginary school day, I went with a very simple salad.
And excuse my weird hands. I had to make them in this awkward position for the picture 😂. Btw have you guys heard of Coleslaw dressing?! It's literally bae omg. I also added vinegar, salt and lemon. And there you have your simple salad. You can make any type of salad you want and a tip from me is don't go overboard with dressing because it's going to leak to your lunch bag and that's not fun.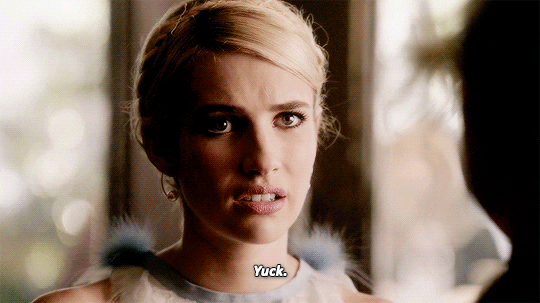 Fruit
I also like to have a little container with fruit in it. Today I went with blueberries.
  Salty Snack
Um did you think I was really going to be healthy for school? I don't think so.
AND veggie chips are bae!  (I have too many baes. Deal with it 😂)
 Sweet Snack
Of course we need something sweet. I went with a classical Costco mini cinnamon bun.
Tada! 😂
I guess I went with 2 healthies and 2 junk. Which is a pretty good balance don't you think? 🤔
Pinterest 
#1
#2
#3
#4
#5
What is your go-to school lunch?
I'll see you guys tomorrow.
Bayyy 💞